Jean has her Chevrah Kadisha Certificate from the Gamliel Institute and is the Board President of Kavod v'Nichum. Initially trained as part of the Fort Collins, Colorado Chevrah Kadisha, Jean is an active member of the Portland, ME Chevrah Kadisha. She runs the volunteer program for a hospice in Maine, Massachusetts and New Hampshire. Jean leads Jewish elders and unaffiliated Jews in ceremony and is an Interfaith Minister ordained by the Chaplaincy Institute of Maine and her ministry is anchored in Judaism. She sews buttons on her backpack and other objects.
Rena is the Executive Director of Chesed Shel Emes, the community non-profit Chevrah Kadisha in Winnipeg, Canada. Since 1996, she has been both a student and a teacher of Jewish thought and practice at the end of life, and a member of her ladies Chevrah Kadisha. Rena has presented at Limmud events in the US and Canada and has experience training new and existing Chevrah Kadisha groups. In 2018, Rena completed a Certificate in Jewish Leadership at Spertus Institute for Jewish Learning and Leadership in Chicago, IL. Rena is a Gamliel graduate and current faculty member and serves on the Kavod v'Nichum Board of Directors. Most recently, she co-authored and taught a 13-week course on Chevrah Kadisha for Aleph Rabbinic students with Rabbi Joe Blair. Rena is a proud recipient of the Jewish Federation of Winnipeg's Larry Hurtig Jewish Communal Professional Award.
Pat is a founding member of the New Community Chevra Kadisha of Greater Pittsburgh in 2004. She is a clinical psychologist and a retired faculty member from the Pitt Department of Psychiatry in the School of Medicine. There, her research interests focused on behaviors, such as smoking, eating and activity patterns, and domestic violence, which affect people's physical health and well-being. As a part of her domestic violence interest, she acquired grant funding to start a program addressing DV as a workplace and workforce concern through which she gained experience recruiting and maintaining community advisory and funding support and in nonprofit management and mergers.
Kohenet Keshira haLev Fife (she/they) sprinkles sparkles, disrupts expectations, and offers blessings wherever she goes. She serves as Oreget Kehilah (Executive Director) of the Kohenet Hebrew Priestess Institute, Founding Kohenet of Kesher Pittsburgh, and Program Director of the ALEPH Kesher Fellowship. She also enjoys working with Keshet and Beloved Builders, and serving on the board of Kavod v'Nichum. Additionally, she delights in serving as a shlichat tzibbur, life spiral ceremony/ritual creatrix, teacher, facilitator, liturgist and songstress. Her work in these realms is informed by her lived experience as a queer, bi-racial, Jewish person, her belief that Book, Body and Earth are equal sources of wisdom, and the quandries she encounters as a scholar of the Orphan Wisdom School. Keshira received Kohenet smicha in 2017 and earned her BS 2000 and MS 2001 at Carnegie Mellon University. After many years of traveling and living in Australia, she and her beloved once again make their home on Osage and Haudenosaunee land, also called Pittsburgh, PA. www.keshirahalev.com
Charlie Rosenblum grew up in post-World War II Worcester, Massachusetts in a second-generation immigrant Jewish family.  It was a mixed marriage:  Orthodox on his mother's side and Zionist-Socialist on his father's, and the arguments, er, discussions, at large family gatherings brought out a full range of Ashkenazi Jewish thought and culture.  After high school, Charlie moved to Portland. Oregon to attend college and spent the late 60's and early 70's exploring New Left politics, hippie communes, and Eastern religions, yet followed his father into both the accounting profession and organic farming, practicing as a CPA in Portland for over 40 years, and raising a family on a small farmstead.  While never having left Judaism, Charlie returned to a more active practice 25 years ago.  He is a recent graduate of Rabbi David and Maggidah Debra Zaslow's Maggid Training Program, weaving Torah, folktales, and Jewish literature into stories we can learn from. 
Justin Rosen Smolen is Director of the Jewish Emergent Network where he leads collaboration and strategy across seven pioneering communities throughout the United States to advance a bold and inspired vision for Jewish life.  Justin brings over 15 years of experience in the Jewish professional world where he launched and scaled innovative national programs with a focus on education, access, and inclusion, and built robust networks and ecosystems to support them.  Justin is a Certified Diversity Practitioner through The People Company Inclusion Institute. He holds an MPA in nonprofit management and an MA in Jewish Studies and is an alum of the Wexner Graduate Fellowship and the Generation Now Fellowship.
Kara is the Managing Director of Clarity Global's NY office leading a team of marketing and communications scientists helping companies grow. Outside of work, Kara serves as an advisor to Lemontree Foods, Major League Hacking and Adelaide Metrics as well as being the lead curator for the TechPRjobs.com website.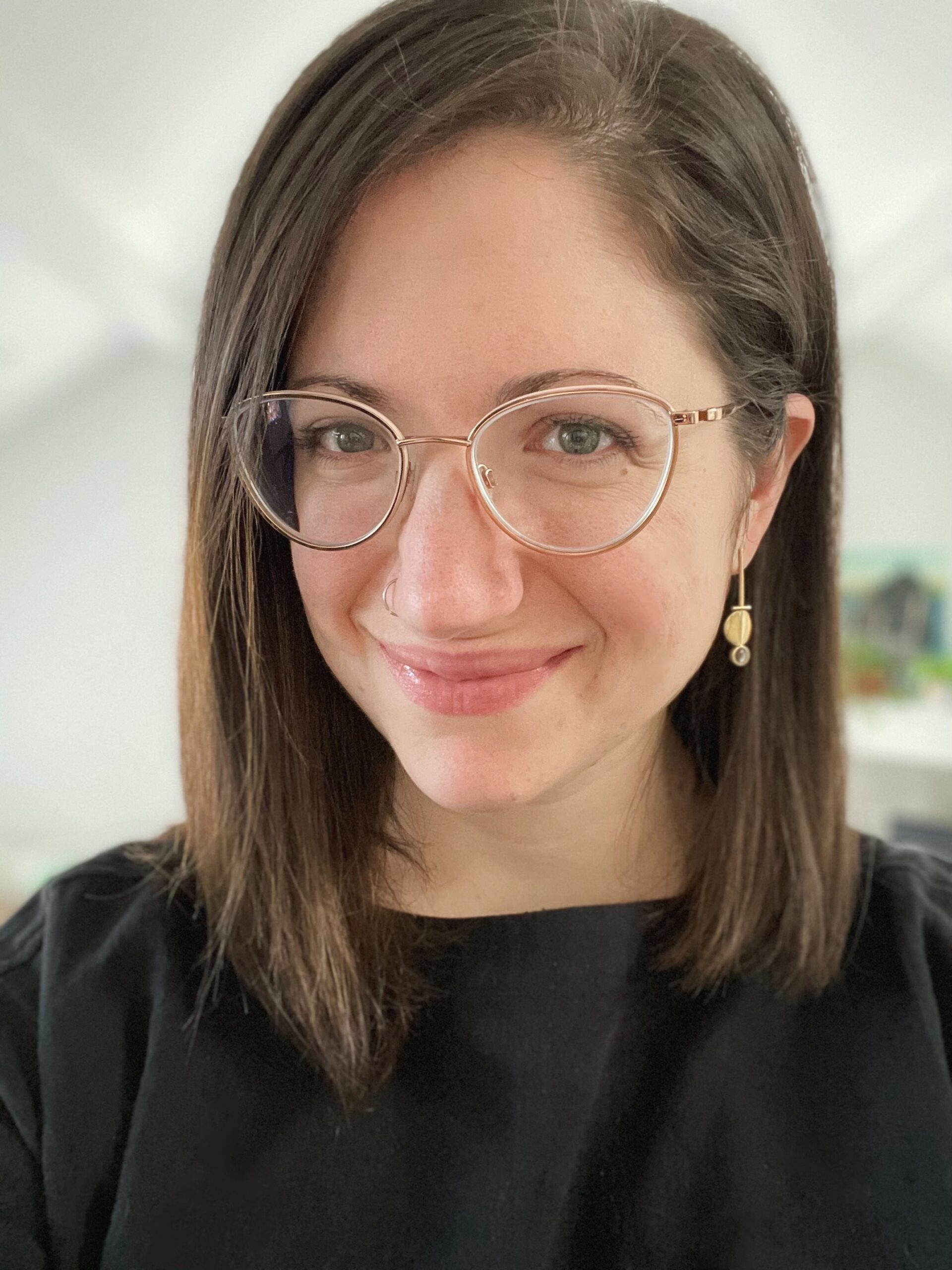 Sarit Wishnevski
Executive Director sarit@kavodvnichum.org
Prior to joining Kavod v'Nichum, Sarit (she/her) trained as an end-of-life doula through INELDA (International End Of Life Doula Association) and produced a podcast and a newsletter called The Be.Side Project focused on where Judaism intersected with the end of life. Sarit has worked for a number of Jewish organizations that seek to weave connections to ancient Jewish rituals and values through modern connection and understanding including OneTable, Repair the World, PresenTense, DOROT, and Hillel. Sarit is an alumna of the Wagner School for Public Service at NYU (MPA-PNP, 2012) and the Ruskay Institute for Jewish Professional Leadership (2017). Sarit lives in Maplewood, NJ with her partner, Ari, and their two-year-old daughter, Adira. Sarit is a member of the Chevra Kadisha at Congregation Beth El in South Orange, NJ.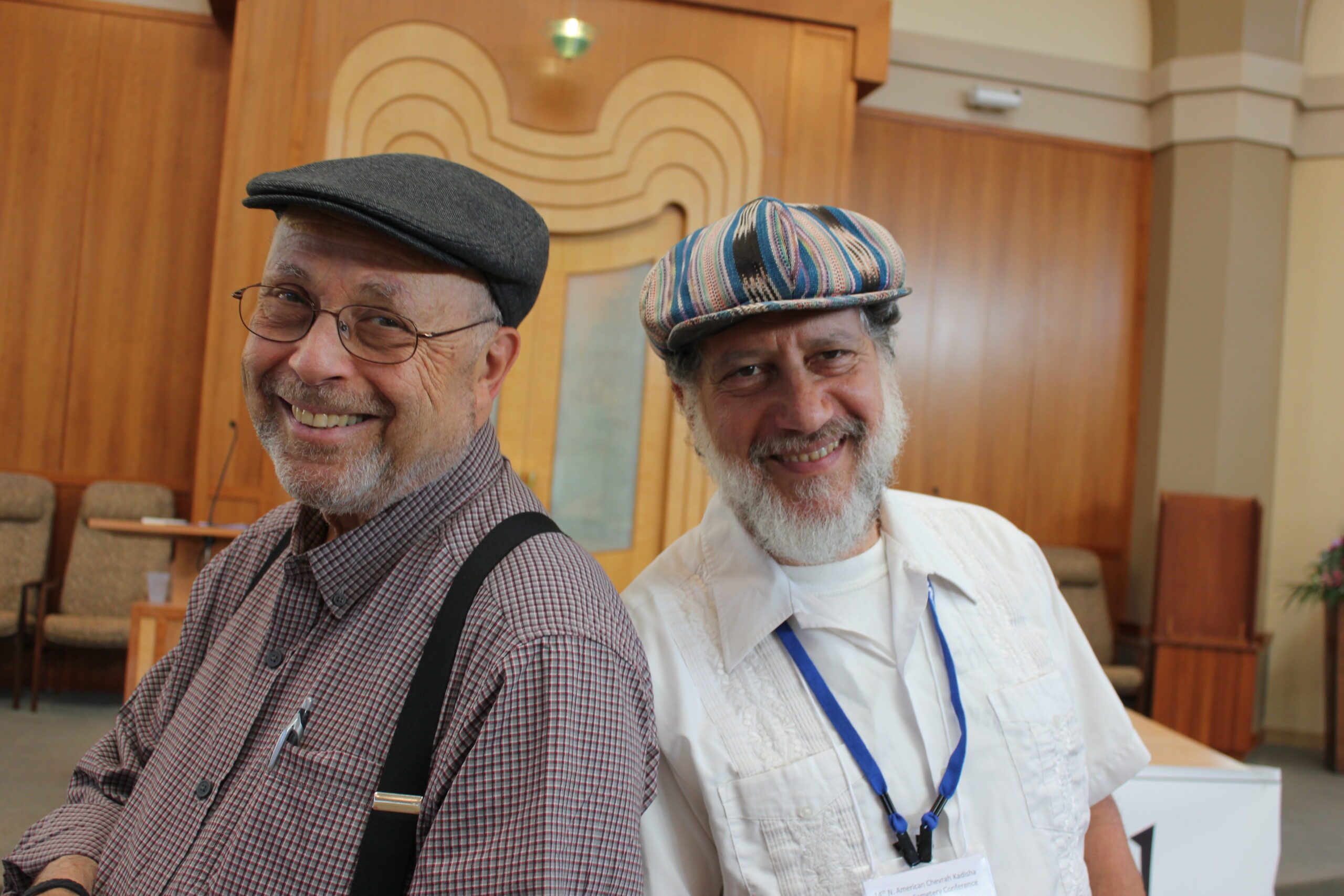 DAVID ZINNER & RABBI STUART KELMAN 
Kavod v'Nichum was founded in the year 2000 by David Zinner in order to connect the disparate Chevra Kadisha across the United States so they might learn from one another, share resources, and develop community. 
In 2010, Rabbi Stuart Kelman and David co-founded the Gamliel Institute as part of Kavod v'Nichum. in order to train and educate Chevra Kadisha Leadership. For twenty-one years, Kavod v'Nichum was led by David Zinner and stewarded by lay leaders and volunteers who were and are committed to the growth and impact of a progressive and pluralistic Chevra Kadisha movement in North America. 
The incredible contributions of educators and volunteer staff built the foundation from which we operate. We honor the wisdom and care that has been infused into the fabric of Kavod v'Nichum and are grateful that we are able to continue their work today. 

Heidi serves as the Director of the Community Hevra Kadisha of South Berkshire County, Massachusetts. She is developing local community outreach programs and education for Jewish end-of-life and death practices. Heidi has been a Kavod v'Nichum volunteer in various capacities, including as a trainer for forming and revitalizing Chevrot. She is soon completing her training as an end-of-life doula.
Dr. Alix Lutnick (she/they/y'all) is an end of life doula/soul midwife and community-based researcher. Alix is passionate about creating spaces where people can show up fully and authentically. They orient towards facilitating and holding space for nuanced, complicated conversations. As a soul midwife, Alix companions people as they prepare for their future death, navigate the dying process, and provides support to those who grieve and honor the person who has died. Alix gives great thanks to their bright and benevolent ancestors, her beloved dead, and dedicates her work to them.
Nina Rubin has been building and teaching about Chevrah Kadisha for 30 years. She began in Fort Collins, CO where every member of the Jewish community is viewed as a member of the Chevrah. She is a Jewish educator who spent 35 years teaching adult and youth education at all levels and 15 years teaching Ethics and Purposes for the Melton School. She began teaching nationally at the Chevrah Kadisha North American conferences in 2007. Nina along with her partner Rabbi Hillel Katzir, serve as the Rabbinic team for Congregation B'nail Butte in Crested Butte CO. Nina is an LCSW recently retired from a large hospital, working with trauma, end of life concerns, support through new diagnosis and emotional care for patients and families.
Rabbi Joe Blair was a graduate in the first cohort of the Gamliel Institute, and has been serving as the Dean of Administration and a faculty member for the Gamliel Institute. He is also a member of the staff of Kavod v'Nichum.  He previously served on the Kavod v'Nichum Board from 2014-2022.

Rabbi Joe attended the Reconstructionist Rabbinical College and was ordained and earned a Master of Hebrew Letters degree. Following graduation, he entered into the academic world with Hillel at Duke University, and then moved to the Hillel at the University of Virginia. After a few years, he became a full-time pulpit rabbi, serving two small congregations in the central Shenandoah Valley of Virginia. He remained with those congregations for 15 years before taking his current pulpit in Charleston WV. 

He holds a B.A. from the College of Arts and Sciences at UVA, a M.C.S. from the Graduate School of Engineering at UVA, and a J.D. from Marshall-Wythe School of Law at William & Mary College (and was admitted to the Bar in Virginia and the Fourth Circuit). He was awarded an honorary Doctor of Divinity degree by the Reconstructionist Rabbinical College after the conclusion of his twenty-fifth year in the rabbinate in 2022.

He was honored to be involved as the source indexer for the Stanford University publication of the Pritzker Edition of The Zohar, with translation and commentary by Daniel Matt, and to serve on the staff working to produce the Kol HaNeshamah series, including the Daily & Shabbat Siddur & the High Holiday Machzor. He was involved as a proofreader and editor in a number of projects, including the revised Plaut Commentary, and the revised JPS (NJPS) Tanakh.
He was selected to be a Star Peer Rabbi (one of 160 nationally over the life of that program), and has served as adjunct faculty member at multiple colleges and universities. He served as a principal in the Jewish Values Online project (www.jewishvaluesonline.org), and previously served as coordinator and respondent for the online Ask A Rabbi service.
He and Rena Boroditsky (also a KVN Board and Gamliel Faculty member) authored a module for the Chai Mitzvah program on Jewish Studies in Dying and Death.

HollyBlue is a Natural Deathcare advocate, speaker, author, musician and poet; graduate and faculty member of Gamliel Institute, co-creator of Redesigning The End's Green Burial Master Class, Cemeterian and Roshah of The Santa Cruz Community Chevrah Kadisha (California), and member of the Green Burial Council Speakers Bureau. Holly Blue provides training internationally for both Jewish and secular audiences in a wide variety of end-of-life subjects.
Rick has been teaching spiritual development in various ways for more than 40 years and has been studying and practicing meditation for more than 50 years. He also teaches backpacking, rock climbing, and other outdoor skills. He is a leader in the community of those who prepare Jewish deceased for burial, has published four books related to death (of the seven he has published), including the award-winning 2016 publication, Jewish Rites of Death, Stories of Beauty and Transformation.  For 18 years Rick was the leader of a local Chevrah Kadisha he started in 1996. He is a graduate and senior instructor of the Gamliel Institute, and has led local trainings in many communities in the US.  He continues to teach and raise awareness about Jewish death and burial practices at the local, state, and national levels. For more on Rick and his books, visit richardalight.com.

Rabbi Rebecca Schatz is the Associate Rabbi at Temple Beth Am in Los Angeles. Rabbi Schatz was ordained from the Ziegler School of Rabbinic Studies in 2017 with a concentration in Halakha and journeyed to Foster City, CA to be the Assistant Rabbi and Education Director at Peninsula Sinai Congregation. Rabbi Schatz received her Masters in Experiential Education from American Jewish University as well as her Bachelor in Choral Music Education before pursuing her rabbinic dream. Rabbi Schatz was one of the main clergy instrumental in getting the Peninsula Chevra Kadisha running and brought that passion and excitement for the mitzvah to Temple Beth Am. Together with IKAR, Temple Beth Am's Chevra Kadisha is now strong in action, learning and connection to the holy work. Rabbi Schatz grew up in an engaged Conservative home in Los Angeles, and together with her family's support and musical talents continues to grow with their creativity, encouragement and masterful teaching.
Edna is a Registered Nurse with over 50 years of experience working in settings such as intensive care, pediatric oncology, nursing management and education, and senior housing and wellness. She has been an educator for over 30 years both professionally and as a volunteer. She holds a Master's Degree from Columbia University in Public Health, with a focus on program and policy development. Much of her current volunteer work, in addition to regular Chevrah Kadisha activities, centers on education about Jewish practices around death and burial. As member of Congregation Netivot Shalom in Berkeley, CA, she is the former chair of the adult education committee and former co-chair of the Chevrah Kadisha. Having moved to the city of Lincoln, CA, she is the recording secretary of the Sisterhood and Chair of the Meal of Condolence Committee for her new congregation, Mosaic Law in Sacramento.
Edna has been on the Gamliel Faculty for almost 10 years. She holds popular "Death Cafes" and led the development of a Bay Area-wide program called "Walking in the Valley of the Shadow," a series of classes for community education on Jewish end-of-life practices. The entire series has been presented in a variety of venues over the last 5 years, both in California and in various locations around the country.
David is the founder and Past Executive Director of Kavod v'Nichum, which works to restore to Jewish death and bereavement practice, the traditions and values of kavod hamet and nichum avelim, and a co-founder and senior faculty of the Gamliel Institute, a center for leadership training and advocacy of traditional Jewish practice in the continuum of care at the end of life. As Vice-President of the Jewish Funeral Practices Committee of Greater Washington, David participates in developing citywide contracts with funeral homes and is a member of the Cemetery Committee.  David is also the Chevrah Kadisha Chair at the Columbia Jewish Congregation, consumer representative on the Maryland State Advisory Council on Cemetery Operations, and the former Executive Director of Tifereth Israel Congregation, a conservative synagogue in Washington, DC. David teaches workshops on Jewish traditions and practices that relate to death and dying both in his own synagogue, as well as all over the United States.